All end user training is developed to help the UCF community navigate Workday, a new cloud-based system. These training materials and resources are available through various delivery methods to promote engagement and support.
Training Materials Can Now Be Accessed via Workday
Click the button below to download instructions for enrolling in a course in Workday.
Take a look at our Welcome to Workday video to learn more about how Workday works for you and the UCF community.
All UCF faculty and staff automatically have access to Workday. Access to Workday requires UCF NID username and password.
Type of security access granted is be based on a user's role with the university (e.g. employee versus manager; faculty versus student).
Check out our handout on what you will be doing in Workday to learn more.
Workday Help is designed to provide users
resources to answer questions and provide
guidance on completing tasks within Workday.
Searching a topic in which you are seeking guidance will
display articles which include overview information,
answers to common questions and links to job aids
providing step by step guidance on completing tasks.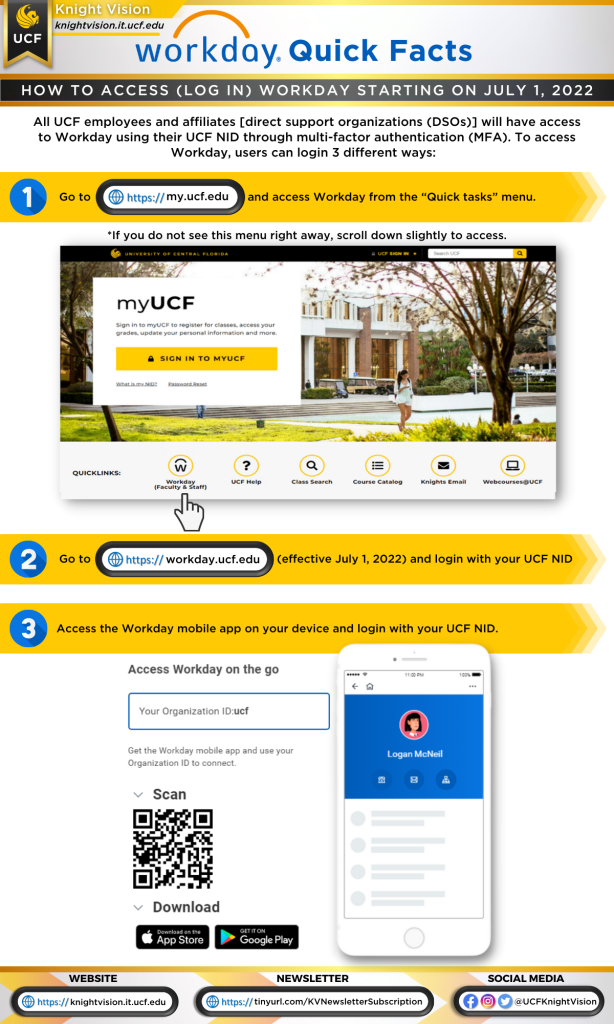 Workday Roadmap to Success
We want to ensure that your Workday training experience is flexible and accommodating! End user training for Workday will offer combination of real-time and on-demand learning activities. Some training sessions will provide multiple delivery options to provide more accessibility to training materials for the UCF community.
Use our Workday Roadmap for Success Guide to help navigate self-service functionality in Workday and key actions to take as you navigate the system.
Upcoming Live Training Sessions