ABOUT Service Enhancement Transformation (SET)
The purpose of SET is to evaluate and improve HR and finance processes, transforming how services are provided throughout the university and aligning our organizational structure to best meet departments' needs. It focuses on who is involved, what services are provided and how they are delivered across an institution for the customers.
Motivation
Bring UCF's internal infrastructure and processes up to date with current technology.
Simplification
Consistency with business processes, eliminating inefficiencies and errors, while improving functionality throughout the university.
Transparency
Include and collaborate with UCF employees throughout the transformation process.
Efficiency
Create streamlined, consistent processes, allowing employees to spend less time on unnecessary steps, and more time on growing in the areas of their choice. 
Customer Service
Embrace technology and innovation to provide the best service possible to employees, students and stakeholders. 
The following stakeholder groups are leading the Service Enhancement Transformation (SET) project:
Knight Vision Executive Sponsors
Project Champions
*SET Champions are leaders from the Finance and HR central offices.
SET will align resources for new processes; SET is not designed to reduce staff.​
Creating defined, uniform roles, responsibilities and competencies for staff and supervisors.
Providing staff with more effective training opportunities, boosting their ability to develop specialized skills and clearly defined pathways for advancement.
Providing service coverage so faculty/staff have specialist backup in their absence.
Aligning with Workday to simplify processes — reducing approvals and oversight.
BENEFITS TO THE UNIVERSITY
Increasing service speed, quality and consistency.
Reducing risk from non-compliant processes and practices.
Using modern, state-of-the-art technology to improve upon our outdated processes, providing uniform, high-quality customer experience.
Reducing duplicative work by simplifying and standardizing processes, yielding an improved work environment that benefits from central offices support.
The Service Enhancement Transformation (SET) Project is component of the Knight Vision Program that aims to improve and simplify HR, payroll, finance, procurement and unit-based post-award services and processes throughout UCF. The goal, as stated by President Cartwright, is to improve the administrative structure that drives our operating excellence and efficacy. In doing so, we will provide better services for all users through the actions listed below.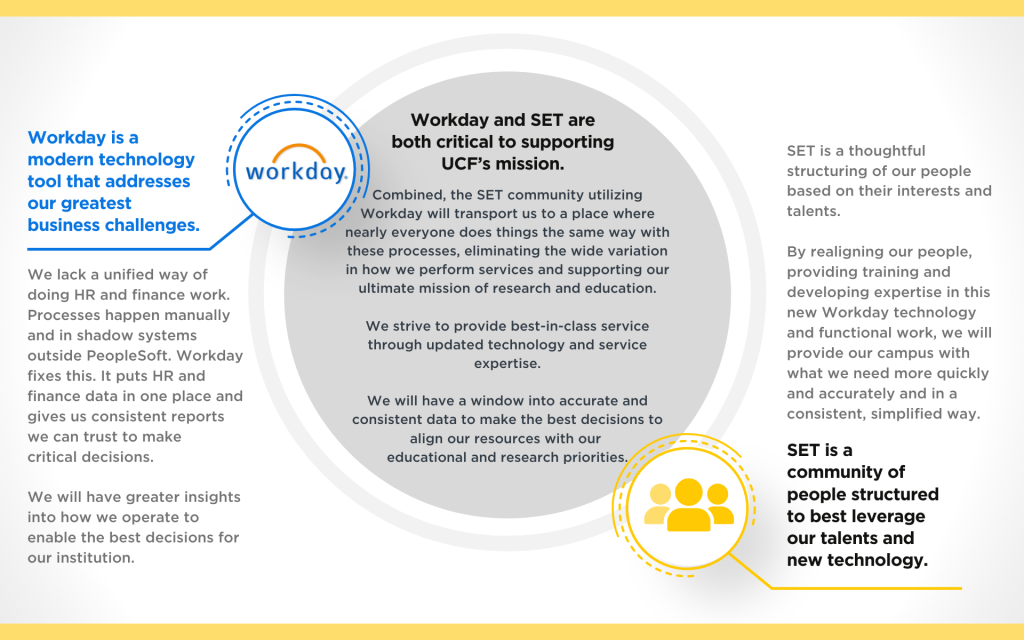 The SET Operating Model allows for more collaborative working relationships within the areas of HR and finance to enhance accountability, partnership, professional development and standardization of work. SET and the Workday ERP implementation are interconnected and occurring simultaneously for the following reasons:
Technology upgrades completely transform how we do our work.
Roles and Responsibilities must be aligned with Workday security and processes, specifically around initiation and approval.

Specialized roles can be empowered with reduced approvals and more permissions within the system.

Specialized roles allow for focused training and support.
The following guiding principles drive decision making and prioritization throughout the SET project.