Workday is the new Enterprise Resource Planning (ERP) system that will replace PeopleSoft, the current ERP system in place, changing administrative processes across UCF. Workday provides a modern, unified system; simplified time management; standardized business processes; reporting with real-time data; cloud-based analytics and much more.
Human Capital Management
HR Processes at UCF and how they will change in Workday.
Grants
Workday will host all grants information.
Finance
Workday will impact various financial procedures at UCF.
Technology
Transitioning system functions into Workday.
Reporting & Analytics
Reporting/Access Data in Workday for users.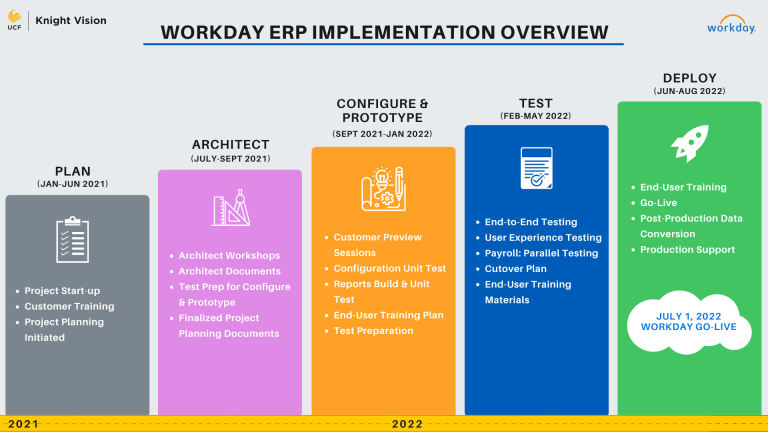 Workday Go-Live Date:
July 1, 2022
WHAT PROCESSES WILL BE AFFECTED BY WORKDAY?
Human Capital Management
Compensation
Recruiting
Benefits
Payroll
Time Tracking
Paid Time Off
Advanced Compensation
Financial Accounting
Budgeting
Cash, Banking & Settlement
Business Assets
Projects
Grants
Customer Accounts
Expenses
Endowments
and more!
SELF SERVICE AND APPLETS & DASHBOARDS
Self Service is a Workday functionality that allows employees to initiate actions or tasks. The Dashboard provides a consolidated, modern look at key management information and actionable items all in one location.
GENDER IDENTITY AND PREFERRED NAME OPTIONS
All UCF employees can edit their Gender Identity and Pronouns within Workday when they visit the "Personal Information" tab within their profile.
This information is visible to everyone in the organization.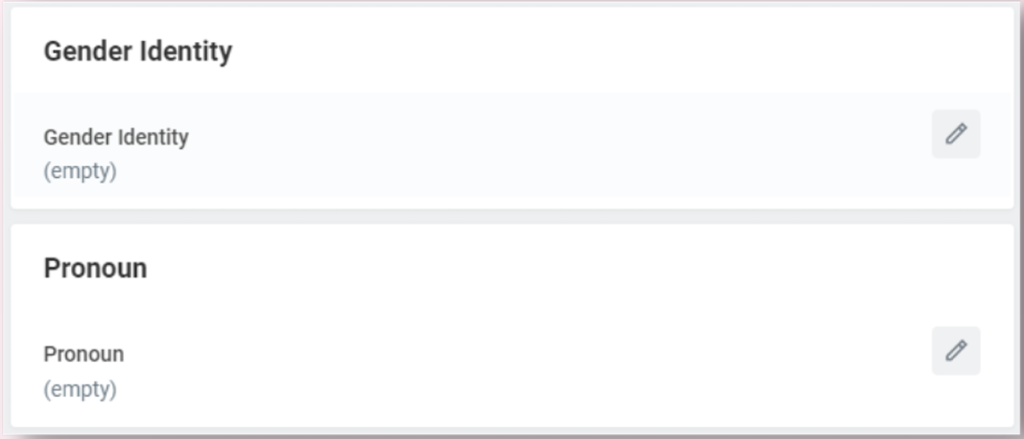 All UCF employees can modify their preferred name within Workday when they visit the "Names" tab within their profile. This name change does not require validation from an HR professional.
This information is visible to everyone in the organization.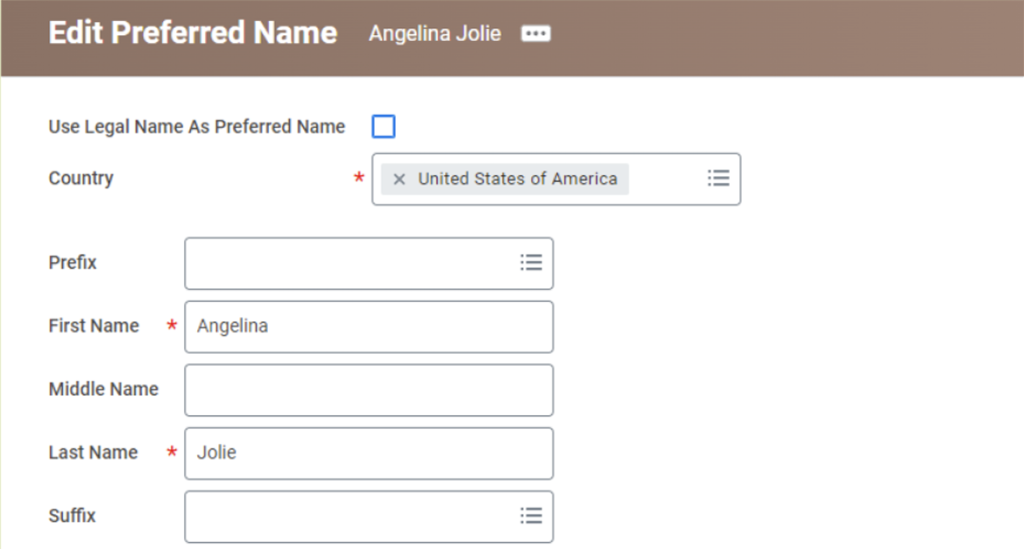 The Workday Pay application provides quick access to all pay information and tasks.
BUSINESS PROCESSES AND INBOX
EXPENSE REPORTS AND SPEND AUTHORIZATIONS
Between April-May 2021, the Knight Vision Workday team conducted design sessions with representatives from workstreams across campus to assess the current UCF business operations and determine whether there is a Workday Functional Area to support the current high-level operations.
During these sessions, input about the current state of business processes, pain points and opportunities for improvement was gathered. As the implementation of the Workday system moves forward, the Knight Vision program team will continue to evaluate how things are done, why they're done and where they are done currently at the university.
CUSTOMER PREVIEW SESSIONS
Knight Vision program team worked closely with a select group of representatives from the UCF Steering Committee, Business Owners Council, Campus Community Advisory Group, Direct Support Organizations and others to ensure that the planned Workday design meets the business and operational needs of colleges and departments across UCF. 
View the recorded sessions here.
CUSTOMER PREVIEW SESSIONS DO:
provide a first look at Workday 

demonstrate select transactions 

capture feedback on significant concerns 

confirm business process designs 

discuss process initiators and approvers 

identify additional change management and training needs 
CUSTOMER PREVIEW SESSIONS ARE NOT:
a debut of the final system 

a full system functionality 

time for a complete redesign of the process 

detailed overviews of business processes 

a form of stakeholder testing 

a training opportunity